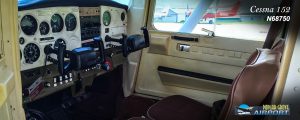 Have you ever wondered whether you too could join the ranks of those who have flown themselves in an airplane?
It's surprisingly affordable, both easier than you thought and more challenging than you've imagined. Becoming a Pilot will be one of the most rewarding things you can do for yourself.
A career in Aviation has many rewards and like anything worth doing will require commitment, effort, and self-sacrifice on your part. Poplar Grove Airport can start you on your way, we have the Aviation Education programs you need to take your career to the sky.
Basic Flight Training
Since the days of Icarus, man has dreamed of flight. In 1903, that dream became a reality as two brothers took to the skies over Kitty Hawk, North Carolina. Today, most everyone can enjoy the fun, excitement and sense of accomplishment that comes with earning a pilot's license.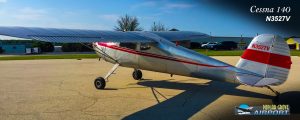 There are a lot of misconceptions about what is required to become a pilot. "Pilots must have above average intelligence," "pilots must be in peak physical condition," and "pilots must have incredible vision" are just some of the myths that have kept many people from pursuing their dream of flying. The fact is that most people in good health, with 20/40 vision (glasses or contacts are OK) can master the information and skills required to become a private pilot. The most important ingredients in learning to fly are desire and determination. By clicking on the following link, you can learn more about the FAA Private Pilot Requirements.
The first step for most people is to take an Introductory Flight Lesson. For about the cost of a nice dinner for two you can go up with one of our Certified Flight Instructors and actually fly the airplane. After seeing for yourself just how much fun it is to fly, we're sure you'll want to do it again.
Poplar Grove Airport has evening ground school courses for your Private, Instrument and Commercial certificate. The Airport also offers convenient computerized testing for the written exams.
During your flight training, you will use one of Poplar Grove's rental aircraft (see below). These aircraft are maintained to exacting standards, by our own maintenance personnel, to insure they are safe and ready to provide you the very best learning platforms available. After you complete your training, they are also available to help you enjoy the fun and freedom of being a licensed Private Pilot.
Advanced Professional Training
Poplar Grove is more than a place to learn how to fly. We are the launching point for your aviation career. Our flight school can take you beyond a Private License to get your Commercial License, Instrument Rating, Certified Flight Instructor Rating and even an Airline Transport Rating.
________________________________________________________________
For more information, please contact Tina or Jen at Poplar Grove Airmotive by calling (815) 544-3471 or by using their email addresses below:
Tina Thomas – Flight School
[email protected]
Jen Thomas – Flight Office Manager
[email protected]